Zadig
USB driver installation made easy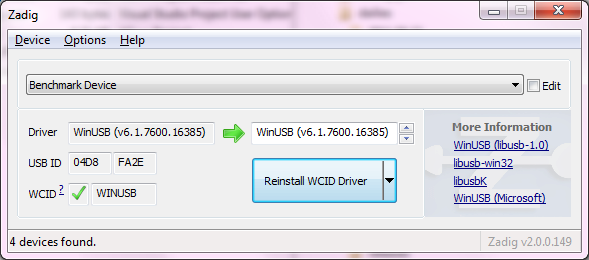 Zadig is a Windows application that installs generic USB drivers, such as WinUSB, libusb-win32/libusb0.sys or libusbK, to help you access USB devices.
It can be especially useful for cases where:
you want to access a device using a libusb-based application
you want to upgrade a generic USB driver
you want to access a device using WinUSB
Note: "libusb-based" above means an application that uses either libusb, libusb-win32 or libusbK.
Download
Updated 2016.01.22:
System Requirements:
Windows XP or later - 32 or 64 bit doesn't matter.
If you are using Windows XP, please make sure to download the XP version above.
Usage
Download the executable and run it — no installation is necessary.
If elevation is required, you will be prompted for it.
An usage guide for Zadig is available HERE.
The executable is digitally signed and the signature should state: "Akeo Consulting"
Notes on the XP version:
Unfortunately, Microsoft chose to make the latest version of its driver framework, KMDF/WDF v1.11, incompatible with Windows XP. With WinUSB and libusbK depending on KMDF/WDF this means that XP users must be provided with the older KMDF/WDF version 1.09 whereas Vista, Windows 7 and Windows 8 users should use version 1.11.
As a result, two versions of Zadig are provided, each including a different KMDF version. If you use XP, make sure to pick the XP version of Zadig or your driver installation will fail.
Frequently Asked Questions (FAQ)
A Zadig FAQ is available HERE.
To provide feedback, report a bug or request an enhancement please use the github issue tracker. Or you can send an e-mail.
License
GNU General Public License (GPL) version 3 or later.
You are free to distribute, modify or even sell the software, insofar as you respect the GPLv3 license.
Zadig is based on libwdi which uses an LGPL version 3 or later license.
The executable is produced in a 100% transparent manner, from its public source, using a multilib MinGW-w64 environment.
Changelog
Version 2.2 (2016.01.22)

Add USB Serial (CDC) support (EXPERIMENTAL)
Use SHA-256 instead of SHA-1 wherever possible
Fix a possible crash when deleting the self signed certificate's private key
Other improvements
Embedded drivers: WinUSB v6.1.7600.16385, libusb-win32 v1.2.6.0, libusbK v3.0.7.0 & usbser (native)
Source Code
If you are a developer, you are very much encouraged to tinker with Zadig/libwdi and submit patches.